I'M ERICH GORDON, ART DIRECTOR & 3D ARTIST FOCUS IN EXPERIMENTAL TYPE, ABSTRACT LETTERING AND MOTION DESIGN. 
Madrid-based Erich Gordon, he finds it tiresome to mention everything he has done, where he has worked, what projects he did, for which clients he did a branding, an illustration, an animation, etc., because he usually does all that as a designer and usually works with many tools to reach his final goal since 2009, which was the year he started in the creative industry.
He spent 7 years managing his own clients and now he usually works for brands with long terms on the one hand, and on the other hand, he does projects in his studio gore_std where he researches a lot and develops concepts applied to experimental typography and 3D typography, 3D lettering and everything. whatever has to do with the discipline of the 3D artist, only that he plays with typography, he makes them from scratch, he does not start his typography from an existing font but from his sketchbook.
He likes history and looks for a way to link that history in his visual brand, he always tries to make a mix between his personal imagination and the history.
For the moment we can summarize that, he is an art director and 3D artist capable of doing animations, colorful renders and illustrations focused on experimental 3D type.
email:

gore.std@gmail.com
"My passion for image, drawing and graphic trends (mainly in the world of skateboarding and the music industry in the 90s) led me to study my second career, which was visual communication. 
Parallel to these studies, I had the opportunity to work as a graphic designer in several renowned publications in Caracas-Venezuela, which allowed me to expand my knowledge in Branding Design and Motion Graphics and apply them in the professional field while I was studying"
PARTNERING ARTIST OF web3
 PROJECT NICE 
Johannesburg, South Africa 2023
Project Nice is a feel-good initiative made up of unique artworks 
of the word NICE
* LAD ORO / GANADOR TIPOGRAFÍA 2018
LAD ORO Awards Latin American Design 
* LAD BRONCE / GANADOR TIPOGRAFÍA 2019
LAD BRONCE Awards Latin American design 
En colaboración con IED Centro superior oficial de diseño Madrid.
4 de diciembre 2019 - 17 enero 2020. 
Palacio de Altamira, Flor Alta 8, Madrid. 
-O| at Galería de Arte Nacional de Venezuela GAN
En colaboración con el
BRITISH COUNSIL
 del 18 al 21 de septiembre 2014 | museo de bellas
artes edificio Neo clásico | sala 3 | plaza los museos, los caobos. Caracas/Venezuela.
Sala del video arte inspirado en patrones WAYUU, Tres piezas de video arte  dirigido por 
-O| at Museo de Arte Contemporáneo del Zulia MAXZUL
En colaboración con el
BRITISH COUNSIL
 , 19 de septiembre 2015 | Av universidad 
con prolongación. Cecilio Acosta | sala multimedia.
Congreso de Comunicación Visual  Rayarte 2020.
Taller "De la observación al  lettering"
Escuela de Diseño Gráfico de la Universidad de San Carlos de Guatemala.
Facultad de Arquitectura. Octubre 2020.
Slanted Magazine #40

—
Experimental Type 2.0
Publisher: Slanted Publishers
Release: July 2023
Publishing Direction: Lars Harmsen, Julia Kahl 
Release: July 2023
Format: 16 × 24 × 1.7 cm
Volume: 320 pages
Language: English
Printer: Stober, Germany
Workmanship: Softcover with thread-stitching, black and white
ISBN: 978-3-948440-56-5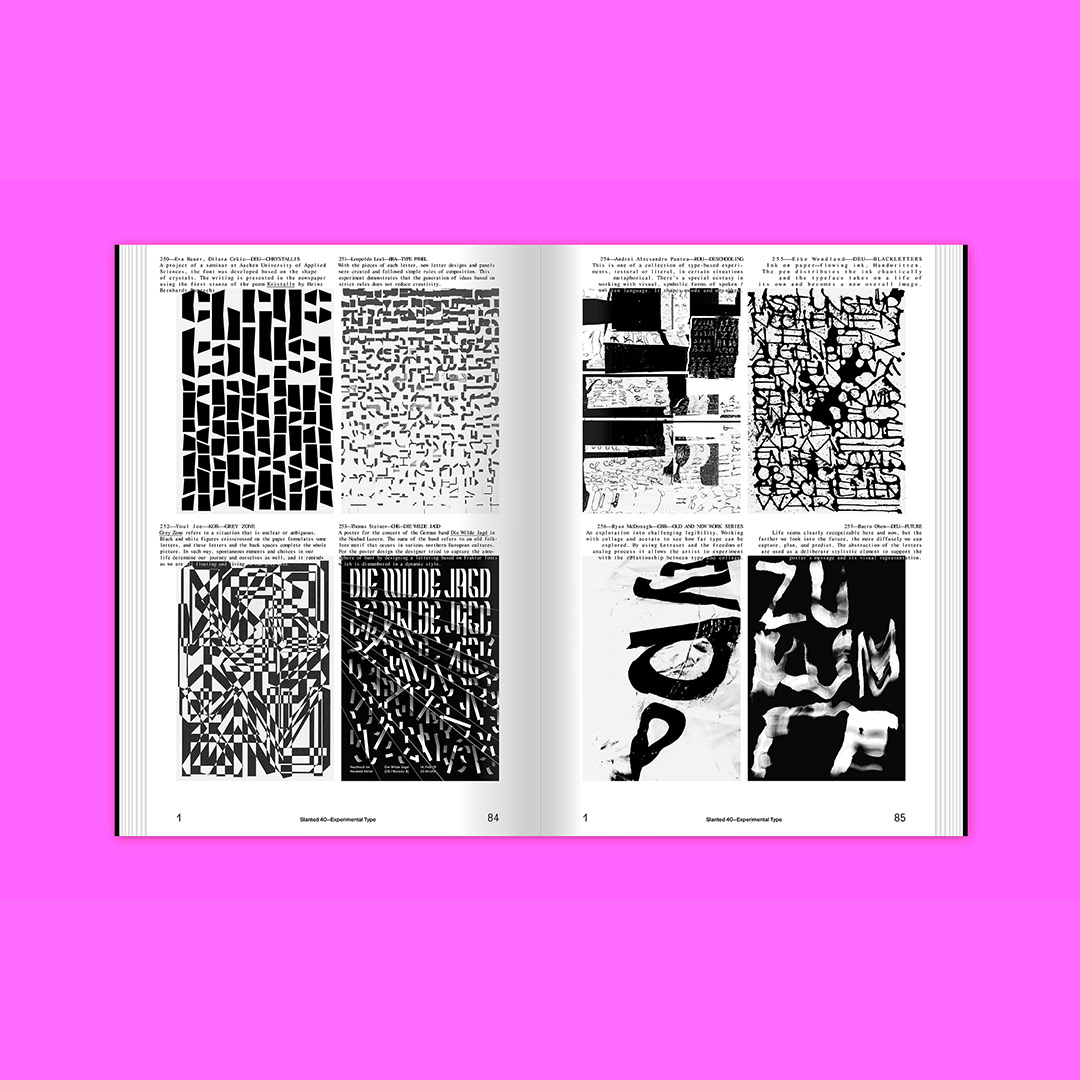 featured artist dystopia exhibition
The Holy Art London: The Factory, 21-31 Shacklewell Ln, London, E8 2DA

2022
featured artist outdoors exhibition 
in the context of nft NYC 2022
featured artist METAVERSAL & NFT.NYC 
Outdoors exhibition PARADE AT
BRYANT PARK 
nft-nyc 2022.